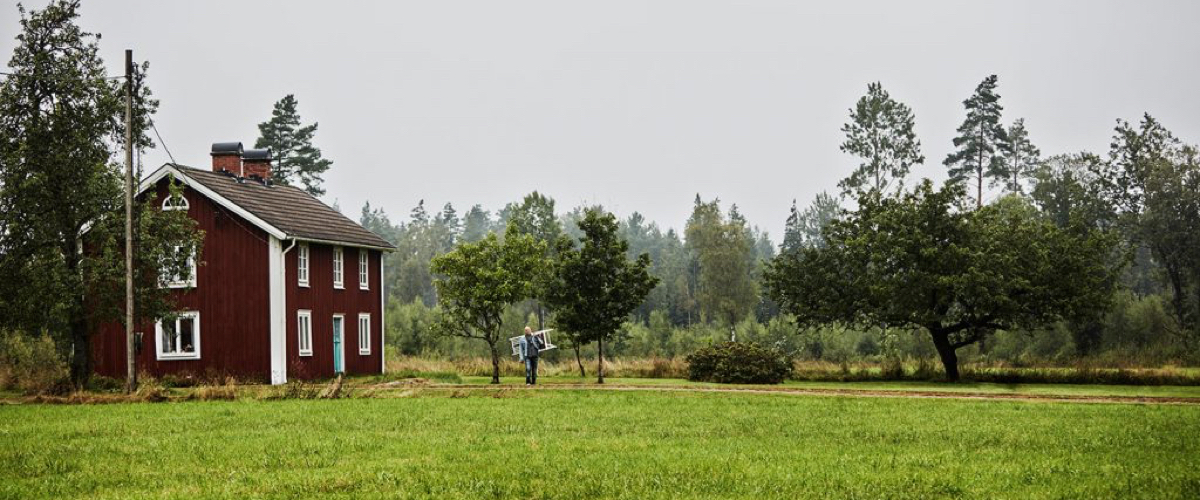 AB Småland, born from the heart of Småland's green forests
Älmhult 1979, the foundation was set ……
The dust cloud after our bikes was still hanging on the villas' lawns on Sölvegatan in Älmhult. Three classmates who were to go separate ways for the day stood leaning over their drop handlebars in the intersection and looked at each other. As far as fashion is concerned, at that time I had no idea, until my friend on the bike next to me asked me why I did not have wide jeans when everyone else had it. There I stood in my flared corduroy trousers and was ashamed. I quickly rode home and asked mom to resew my pants.
I come from a Småland family who have always seen the value of recycling things. From big brother to middle brother to me; it was kind of like that with everything. My mother and brother both sewed and that started my interest in patterns and shapes. My biggest brother was an artist who also inspired to create. We might not have been the wealthiest in Småland, but we had a strong sense of community and if you can't afford it you have to make due with what you have. With that spirit around the table a thriving era of curiosity, creativity and commitment started.
Refurnishing at home was one of mom's interests and there I was quickly involved since I love change. This laid the foundation for the feeling of the room's composition and the pace of renewal but to start from what you have as a base instead of buying new things all the time.
Our home was also open to all the neighborhood's children, where mom's freshly baked buns were languished as trophies and was the best break in a day out in the woods building huts or playing the red white rose. To create such a break in everyday life became the foundation of our café and also the spirit of the whole place - that everyone is welcome.
Mom's green fingers created an oasis of vegetation at home with elements of atrium garden, arbor, hills and lands where there was no straight line and where there were flowering plants throughout the spring and summer seasons in all countries. In Our Orangery we try to give that inspiration and harmony to you that I got from our garden.
The childhood years have given me a close relationship with nature and the mystique that often arises between a curious "smålänning" and Älmhult's forests. It became part of my vision and I see it as my responsibility to honor sustainability, reuse and genuine materials.
This journey, which was started many years ago, continues to this day and has taken the form of Ab Småland.
The vision. A lifestyle concept where the unexpected meets the traditional. Redesigned home interior and fashion mixed with newly designed in organic or recycled material where we invite you to participate in the creation. Our ambition is to offer an inspiring meeting place with a creative atmosphere where everyone feels welcome.